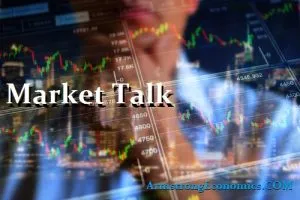 Following President Trump's correction of Steve Mnuchin's currency comments the currency markets experienced wild swings just ahead of the Asian trading session. The ASX opened weaker, hitting the days lows in early trading and then spent the rest of the day trying to make-up lost ground. Nikkei and Hang Seng opened better but on the back of a then weaker currency. That role was reversed and the Yen eventually closed the trading day around the low 108's with the Nikkei cash and eventually futures reflecting the move. Exporters and financials were hit hardest forcing the index into the negative close (-0.2%). The Hang Seng managed a strong close gaining over 1.5% as banks and real estate companies drive off of recent momentum. SENSEX ended lower despite a brief attempt to run into the close, but uncertainty and profit-taking continues to weigh on sentiment.
UK GDP released better than expected (+0.5% against forecasts of +0.4%) and that helped GBP bounce to near Thursdays levels – before the Trump comments! This number also helped FTSE gain +0.65% by the close. CAC has been lagging both FTSE and DAX recently, but that managed to a bid today with a +0.9% return as earnings related reports boost sentiment. Afternoon Europe was influenced by US GDP lower than expected with helped both GBP and Euro and also provided a boost for core equity indices. DAX did slip into negative ground at one stage but was aided by the US data and hopes that Angela Merkel and Martin Schulz conclude the next round of coalitions talks.
US can do no wrong it would appear again today as even a disappointing GDP report could not halt its run. The expectations were around the 3% mark and so a 2.6% release was disappointing. However, earnings have more than made up for the shortfall and again we see record highs for the S+P and the DOW. Many were awaiting President Trumps Davos speech late in the US trading day on hopes of further market fireworks. In a relatively mildly worded address he stuck to the script, providing a balanced America first but not alone ideology. Late in the day these comments did have an effect on the DXY and we saw once again a bid return for the greenback, especially against the GBP.
Japan 0.073%, US 2's closed 2.12% (+4bp), 10's 2.66% (+4bp), 30's 2.91% (+2bp), Bunds 0.63% (+2bp), France 0.91% (+3bp), Italy 1.99% (+4bp), Greece 3.61% (-5bp), Turkey 1.55% (+4bp), Portugal 1.91% (+3bp), Spain 1.40% (u/c) and Gilts 1.44% (+2bp).