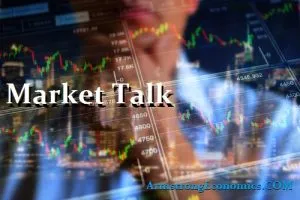 A mixed opening seen in Asia this morning which eventually turned into a down day given the lack of volume and positivity. Even though the US sent a confident tone, the after hours trading in Facebook unnerved many tech stocks. Facebook traded nearly 20% lower in futures terms after the Q2 revenue miss. It was the size of the move that creates the nerves and that is certainly how both Asia and Europe responded. The Hang Seng and main Shanghai indices tended to follow the ASX and failed to recover remaining under pressure for the balance of the day. The Nikkei saw nothing new and even with all the talk concerning government purchases of Topix Linked ETF's failed to spur activity. The SENSEX looked to be heading for unchanged after retreating from morning highs, but then leaped to close (+0.35%) in the final few minutes trading having hit fresh record highs. In late US trading we are seeing more Yuan weakness (in futures)…
The Juncker/Trump outlined agreement on auto's was all that the DAX needed to give that a helping-hand and that is exactly what we heard late yesterday. The German exchange opened solid and just kept motoring on the news. The index eventually finished up near 2% on the day, with other core economies helping but not leading. The CAC returned 1% but then focus returned to the ECB and Mr Draghi's comments. It is too early to talk on the possibilities but the fact that both sides wish to work towards zero tariffs is certainly encouraging for both economies. ECB again kept rates unchanged as expected. Both the Euro and GBP suffered against the US Dollar with a near -0.75% decline for both on the day.
Gone are the days when the NADAQ used to run ahead of all other indices as today we saw the reverse. Obviously, Facebook is the stock most traders are talking about today having dropped 20% of its value after a disappointing Q2 result. This weighed on the NASDAQ (-1%) but in turn the DOW rallied on strong large cap earnings pushing a further 110 points (+0.45%). Tomorrow is the all important US GDP data release and this will push markets for next week. Also, month end next week so numbers and trends will be watched very closely. After the close Amazon releases way better than expected numbers ($5.07 against expected $2.50) and we see that stock rally 5%.
Japan 0.09%, US 2's closed 2.69% (+2bp), US 10's 2.98% (+1bp), US 30's 3.10% (u/c), Bunds 0.4% (+1bp), France 0.7% (+1bp), Italy 2.7% (+3bp), Greece 3.79% (u/c), Turkey 17.63% (-4bp), Portugal 1.71% (-1bp), Spain 1.36% (+1bp) and Gilts 1.28%