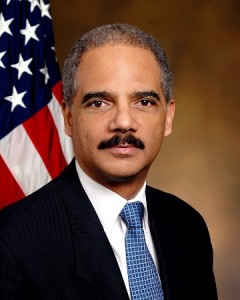 Former US Attorney General, Eric Holder, had the audacity to write in the highly partisan Washington Post with the headline: "William Barr is unfit to be attorney general." Holder accuses Attorney General William P. Barr of making a series of public statements and actions that he called "so plainly ideological, so nakedly partisan and so deeply inappropriate for America's chief law enforcement official that they demand a response from someone who held the same office."
The Democrats are engaging in an all-out partisan war. We have Holder coming out against Barr because he has been investigating the illegal actions of the Obama Administration of even wiretapping Trump's campaign, which is up their with the Nixon Watergate level of surveillance. Holder would have been responsible and oversaw those illegal actions. His op-ed is clearly a shot in anticipation that he may come into focus, and then he can claim it is retaliation for this op-ed. The Washington Post is always one-sided, so for this to appear there is completely understandable.
This one-sided reporting by the The Washington Post seems to beg the question: would they have published the Bernstein and Woodward's investigation back in 1972 that brought down Richard Nixon if he was a Democrat?